The Governor's Executive Order concerning Worship Centers was lifted in a Federal Court ruling on the evening of May 16.  Consequently all Masses previously scheduled as Private Masses were opened to all who felt comfortable attending, although the obligation for Sunday Mass remains suspended by the Bishop.  A new Mass Schedule will be posted as we receive directives from the Diocese,
We are aware that several persons have been actively working against our Parish with threats and attempts to oppose and otherwise harm our Pastors, our Parish, our Faith, and our Ministries.  Thank you to the concerned parishioners and others who have come forward with information about this.  If more of you have information or concerns that you would like to share, please call or come by the Parish Office.   St. Elizabeth does not tolerate reckless and unwarranted attacks against our Parish, its staff, its faithful parishioners, or our Faith.  We respond as necessary to protect the Parish and its parishioners.  As we address these issues, we ask you to join us in praying for the protection of our Priests and our Parishes from all who would hate us, harm us, or attempt to cause us to betray or stray from our Catholic Faith.
A Processional of Reparation in honor of St. Joseph, patron saint of the Universal Church, was held at St. Elizabeth Church on Thursday, March 19 immediately after the 9:30 AM Mass. All were invited to join us in front of the Church and take part in the processional. It was offered in honor of St. Joseph and in reparation for the sins of the world during these turbulent and unprecedented times.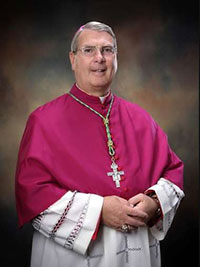 Pope Francis has appointed Bishop Gregory Hartmayer of Savannah to be the next Archbishop of the Atlanta Archdiocese.  Click HERE for the full story as reported by the Catholic News Herald.
Ladies Overnight Adoration at St. Elizabeth ran from 9:00 PM, Friday, March 6 to 9:00 AM, Saturday, March 7. Ladies from St. Elizabeth and surrounding Parishes were invited to come stay overnight and spend an incredible evening in Adoration of Our Lord. Classrooms were available for sleeping. There was a nice turnout of ladies of all ages for the event.  An incredible experience was reported.
The St. Joseph's Seminarians and Seminary Staff participated in and led our 11:00 AM Mass on Sunday, March 1st, the First Sunday of Lent. Their Schola Cantorum sang a capella.  If you missed it, you missed a wonderful opportunity to meet, talk with, and hear many of our future Priests as well as experience a beautiful presentation!
There are CDs which were recently recorded by the St. Joseph's Seminarians available in the Parish Office. They are $15.00 each. Get yours now!
March For Life 2020
An enthusiastic, but tired group of parishioners returned home to Boone to the challenge of icy streets in the wee hours of the morning on Saturday, January 25 from March for Life 2020.  They had the privilege of being  a part of the hundreds of thousands of fellow Catholics who traveled to our nation's capitol to stand up for the rights of unborn children.  Thank you to all who went and those who organized and supported this wonderful pilgrimage!

 Knights of Columbus have donated the proceeds from their recent successful "Keep Christ in Christmas" magnet sales fundraiser to the Right to Life Committee to be used to offset expenses of the bus trip to the March for Life in Washington, DC on January 23 and 24.  A substantial contribution of $736.00 was raised and donated by our Knights.  Our Parish and our Right to LIfe Committee are very Thegrateful to our Knights of Columbus Council for their generosity in supporting this worthwhile project and grateful to all of the Parishioners who supported this fundraiser.
More than 30 people enjoyed a FAMILY MOVIE NIGHT AT ST. ELIZABETH'S on Saturday, December 14 at 6:00 PM following Mass. Their $5.00 ticket, which will help sponsor the March for Life Bus Trip in January, included Hot Dogs or Slices of Pizza, Bags of Chips, and Drinks with various desserts available.  Their were a number of parents, grandparents, and others in attendance with the large group of kids who ranged from pre-school age to college age.  Kathy Camilleri and the Family Life Ministry did a fantastic job of planning, putting together, and hoisting this event.  All seemed to have had a great time as we had numerous requests for and suggestions on how to make this type of family-themed gathering a more frequent or regular event.  
Totus Tuus will return for the Summer of 2020.  The dates this coming year will be June 21-27.  Totus Tuus is a summer Catholic youth program are dedicated to sharing the Gospel and promoting the Catholic faith through evangelization, catechesis, Christian witness, and Eucharistic worship.  The week long program assists parents and parishes in the evangelizing and catechizing of their youth.  Mark your calendars and watch for information on signing up for this great program! 
After several years of research, planning, and design work, Rygid AV, a respected audio visual design contractor, has been installing a new sound system in our Church during the past few weeks.  They will be fine tuning things over the next few weeks as we try to reach a level of perfection for every seat in the house.  New, technologically advanced microphones and control systems are being used for both spoken sound and music.  Sound is being measured and adjusted to equal levels of volume and clarity in every section of the room.  We hope that you will notice an improvement in the quality of the sound and your ability to hear it from all corners of the Church.  A new audio visual system is also being installed in the Cry Room to give our growing number of parents of small children a better experience in worshiping with their children when it is necessary to take them out of the Church.
Our New Website Address is www.saintecc.org. Bookmark this address as it has replaced the old address. This new address allows us to get around some issues with the old address and make our website live again after being down for nearly a week. We apologize for the downtime. We will have all pages, events, schedules, and calendars back up to date as soon as possible.  We anticipate bringing on some exciting new features and being able to do things which we were not able to make happen under the previous domain name.  Stay tuned for more!
The first St. Elizabeth Oktoberfest was SATURDAY, October 12, at 5:30 PM after the Saturday Vigil Mass and it was a huge success!  Authentic German cuisine and beverages were featured, courtesy of Father Buckler. We had hot dogs and chips for children and those who wanted them. In addition to German beers, a variety of soft drinks and non-alcoholic beverages were also available. Huge crowds filled the Parish Hall, downstairs, and the outdoor decks.  Afterwards, the recently refurbished playground was filled with the largest group of happy children and parents seen here in recent years.  They played under the lights until late in the evening.  Special thanks go to the many volunteers who worked tirelessly during the last few weeks to put this event together and make it such a huge success.  But thanks especially to Father Brendan Buckler for putting together the menu, helping plan the event, and interrupting his Priest Retreat to drive over five hours on Friday afternoon from the retreat in Maggie Valley to Raleigh to pick up the German food and beverages that he had special ordered and bring them back to St. Elizabeth on Friday night.  That was really above and beyond the call!  Thanks again to Father Buckler and all others who made it a success.  You really raised the bar this time.  But you guys need to get some rest because there are already calls for a repeat of this event!
On Sunday, October 6th at 2:30 PM the St. Elizabeth Respect Life Ministry braved some damp and threatening weather to host the Life Chain in Boone at the corner of Hwy 321 and 105 (the "Big Light"), by the Wells Fargo Bank and across from Wendy's. The Life Chain takes place around the US and Canada and is a prayerful public witness of pro-life individuals standing and praying for an end to abortion.  More than 25 members of St. Elizabeth, St. Bernadette, and Catholic Campus Ministry joined us in showing that we believe in the sanctity of human life from the moment of conception until natural death.
The 2019 Confirmation Mass was on Monday, September 30, at 6:00 PM. Many parishioners came to celebrate with our confirmandi as they received this great sacrament.  Bishop Peter Jugis presided with Father Brendan Buckler over the Confirmation. Several of our seminarians, including Michael Camilleri and Bailey Van Nosdell came to participate in the Mass, as did the crew of Engine 6 of the Boone Fire Department after the distribution of the incense by our seminarians got a little too enthusiastic for our fire alarm sensors to ignore. Bishop Jugis wasn't ruffled in the least by the excitement and in his homily noted that the excitement caused was perhaps appropriate in that it may have served to help make the occasion, and especially the conferring of the Holy Spirit upon our confirmands, something they will always be able to remember.
Bishop Peter Jugis formally installed Father Brendan Buckler as Pastor of St. Elizabeth Catholic Church at the 11:00 AM  bilingual Mass on Sunday, September 1.  A reception followed the Installation Mass in the Pat Jones Hall.
The First Saturday Mass custom comes from a specific request made by Our Blessed Mother herself during one of her apparitions at Fatima, Portugal in 1917. She asked that people attend Mass on the first Saturday of the month in order to make reparation for the many sins of the world, a need that continues in our own day and time.  St. Elizabeth initiated a First Saturday Mass custom on Saturday, August 3 at 10:00 AM.  This is a Traditional Latin Mass.  The First Saturday Traditional Latin Mass will continue to be offered on each first Saturday of each month. 
March for Life 2020 will be January 22-25, 2020 in Washington, D.C.  St. Elizabeth parishioners will again be joining with surrounding parishes and Catholic Campus Ministry students to organize a trip to Washington in support of the March.  Formal planning started at the monthly Respect Life meeting in the Youth Room at St. Elizabeth on Tuesday, August 13 at 7:00 PM.  All are invited to attend future meetings and help plan the best trip to the best and most successful March for Life ever!
Father Brendan Buckler celebrated our first ever Missa Cantata (Sung Mass) in the Extraordinary Form of the Roman Rite (Latin Mass) in lieu of the Low Mass on Tuesday, July 23 at 6:00 PM. The beauty of this traditional Mass was augmented by participation of our newly formed Latin Mass Choir and Cantor. This was a wonderful opportunity to see the richness of the Tradition of our Church. The Mass was well attended by an appreciative group of people who came not only from our Parish, but from surrounding parishes as far away as Jefferson, Lenoir, Linville, and Charlotte to see this Mass and learn more about Church tradition. Father Buckler has indicated an intent to continue to offer this Mass on a schedule yet to be determined. So, if you missed it, check our web news and schedules often to see when your next opportunity to witness the beauty of the Sung Mass will be available again.
Father Brendan Buckler's first weekend Masses at St. Elizabeth and Epiphany went well.  All Masses were very well attended with near capacity crowds.  Father Buckler seems to have been well received by those who attended his first weekend Masses as he has been by staff who began working with him this week and parishioners who were at weekday Masses and functions at the Church.   If you didn't make these Masses, join us this coming week or weekend for Mass and meet our great new Priest!
Father Brendan Buckler became Pastor of St. Elizabeth Catholic Church in Boone and its missionary church, Church of the Epiphany in Blowing Rock on Tuesday, July 9, 2019 when Father Matthew Codd left for his new assignment at St. Thomas Aquinas Church in Charlotte, NC.  Father Buckler is 39 years old and was ordained in the Raleigh Diocese on June 4, 2011 after graduating from the St. Charles Borromeo Seminary in Wynnewood, Pa.  He served as Parochial Vicar at St. Catherine of Sienna Catholic Church in Wake Forest, NC before being assigned as Administrator at Mother of Mercy Catholic Church in Washington, NC.  He served in this position for two years before becoming the Parish Priest there four years ago.  Join us in making Father Buckler welcome as he begins his ministry at St. Elizabeth and Epiphany this week.
On Sunday, May 26, Church of the Epiphany in Blowing Rock opened for the summer.  Masses at Epiphany are each Sunday at 9:00 AM through Sunday, October 8 when the church closes for the season.  There is no Early Mass at 8:00 AM at St. Elizabeth while Epiphany is open.  Welcome back, Epiphaneers!
A Respect Life Ministry has organized at St. Elizabeth's. Our first well attended meeting was on May 7.  We are joining the ranks of the ever growing effort to protect life from conception to natural death.  Our meetings are on the second Tuesday of each month at 7:00 PM in the Youth Room or Choir Room (depending on availability). All are welcome and encouraged to attend. Contact Kathy Camilleri for questions or information at the Parish Office or 828-238-5292.